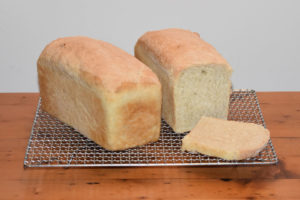 Real bread made from a few natural ingredients is a wonderful basic food and so easy to make. It has a delicious flavour, requires little more than a dab of butter and one slice is substantial enough to quell any hunger.
When I was young, my father told me that during the course of history, all cultures throughout the world had what he called a gut filler. He said meat and vegetables were expensive and gut fillers always carried the food further. Italy had pasta, Asia had rice, for others it was potatoes and for some it was bread. Bread was our family gut filler and it was served with fresh home-grown produce from the garden.
I now think sitting outdoors with freshly baked bread from the oven, a glass of wine or home-made lemon cordial and some fresh home-gown produce from the garden is so enjoyable.
You'll love this 1, 1, 3, 3, 3 recipe. All types of flour can be used and all sorts of seeds or grain can be added. Personally I like just plain unbleached white Australian flour.
BREAD
1 kg of plain white flour (unbleached white or stone-ground wholemeal or ½ of each)
1 level dessertspoon of dry yeast (use good quality yeast)
3 level teaspoons of ground sea salt
3 cups of warm water (body temperature)
3 level teaspoons of raw sugar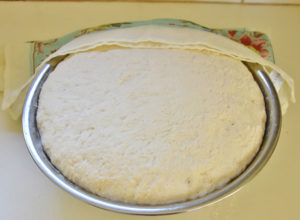 Put flour, yeast and salt into a large bowl (stainless steel is best, it's light and easy to clean). Dissolve sugar in the warm water. Add to dry ingredients and mix into a dough. Knead the dough in the bowl a few minutes (sprinkle with more flour when dough becomes sticky.) Cover the bowl with a damp cloth and leave it to rise until it doubles in size.
Knead the dough a few minutes, divide it into two parts and put into two small greased bread tins. Cover with the damp cloth and leave it to rise until the dough reaches the top of the tins (double its size). Bake in preheated oven approx. ½ hour at 200˚C.  The bread is cooked when you knock on the bottom and it sounds hollow.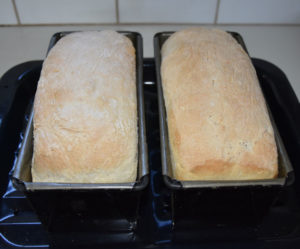 VARIATIONS:
PIZZA
After the bread dough has risen once, roll it out thin and flat and place it on greased trays. Spread a tomato or garlic sauce on the top and then your favourite finely sliced or chopped vegetables and/or cooked meat. Bake in preheated oven approx ½ hour at 200˚c. (This makes enough pizza for a family of four. If you are cooking for less people, use half the dough for pizza and the other half to make one loaf of bread).
FRUIT LOAF
Add to dry ingredients:
1 teaspoon of cinnamon
1 teaspoon of mixed spice
2 cups of dried fruit
Add ¼ cup of raw sugar to the warm water (not 3 teaspoons).