If you're going to eat fish and chips do it with style. One of the nicest places to eat is outdoors in a natural environment with a sensational view, particularly with children.
Summer dining at the beach or near a river can be simple, inexpensive and more enjoyable than going to a restaurant.
Pack a hamper with an attractive table cloth, serviettes, a cold bottle of wine and glasses, cold drinks for the children, plates and cutlery.
Make a home-made tartare sauce or delicious fish sauce (recipes below). Chill and put in a sealed container.
Prepare a simple shredded tossed salad using lettuce, tomato, spring onions or salad onions, cheese, parsley, rocket or whatever else you have in the fridge. Dress with a combination of olive oil and a light wine vinegar or lemon juice and place in a plastic tub with some tongs.
Find a quality fish and chip shop on the way and purchase some cooked fish… and the chips if you enjoy them.
Find a picnic table on the beach or near the river, spread the table and place the fish on plates with the salad. Dress the fish with the sauce and enjoy outdoor dining in some of Australia's beautiful locations. Do it with real flare and style!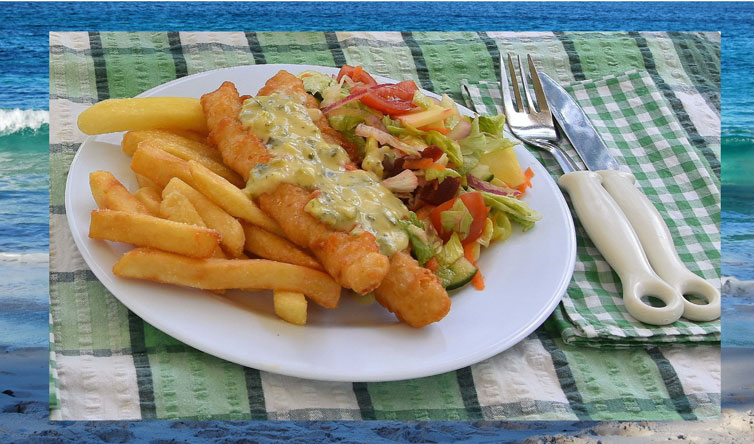 Traditional Tartare Sauce
Combine 1 tablespoon of minced or grated red onion
1 dessertspoon of lemon juice
3 tablespoons of finely chopped gherkins
1 tablespoon of finely chopped capers
1 tablespoon of finely chopped parsley
Combine ingredients and mix in enough Aioli or mayonnaise to suit.
A delicious Fish Sauce using purchased or home grown produce
2½ tablespoons of raw sugar
1 tablespoon of butter
2 tablespoons of vinegar
2 tablespoons of lemon juice
1 teaspoon of dry mustard
2 large eggs beaten
¼ cup of water
1 heaped tablespoon of finely chopped cucumber
1 heaped tablespoon of finely chopped celery
1 heaped tablespoon of finely chopped dill or parsley
1 heaped tablespoon of finely chopped asparagus
1 small clove of crushed garlic
A sprinkle of salt and pepper
Stir constantly with a whisk over a low heat until it thickens. Remove from the heat before it boils and chill. Makes approx. two cups.