A few years ago, twin sisters April and Kirsty along with their close friend Lindy, embarked on a journey to follow their long-held desire to own and operate a mobile café. They found an old vintage Franklin caravan and transformed it into an adorably cute mobile café and named her 'Sweet Betsy'.
The three partners tow her to three markets each month and attend annual events throughout the year selling coffee, tea, spiced chais, vanilla chais, iced coffees, iced chocolate, soft drink, juices and water. To sweeten the experience they offer old-fashioned home-made muffins, cakes and slices including a few gluten free varieties. They also sell packs of baked treats and a large variety of bottled jams, pickles and chutneys to take home.
"The idea was a dream that for a long time didn't come to fruition because I was living interstate," Kirsty said. "After I came home, we decided to give it a go.  We put an advertisement on a buy swap and sell Facebook page and a lovely couple answered it. We found Betsy as we called her, camped out in a paddock and we towed her to our parent's house."
The three friends then pulled out the old furniture and April and Kirsty's parents helped them renovate. "Mum did all the interior decorating while Dad did all the grunt work and he remodelled the servery," April said. "Then Lindy's wonderful cousin donated our beautiful timber bench tops."
April, Kirsty and Lindy all love to bake, which brought them together. Kirsty and Lindy met each other while working together many years ago in hospitality. Kirsty now also works at a bank, Lindy makes special occasion cakes from home and April runs her own driving school. They all grew up in the country and they now all have young families.
April said originally the dream was to have the business operating full time but they have come to the conclusion that it's not realistic while they have young children. "Setting up a coffee van somewhere at six in the morning with young children at school logistically at this time is difficult to do. Ideally it would be a lovely goal to aim towards."
The small business, after operating part time for one financial year, managed to cover initial expenses, which were substantial and make a profit. Among the initial capital expenses was a coffee machine costing $4000, a grinder costing another two and a large fridge. "Another expense was the learning curve," April said. "We started from scratch without any real business plan. We didn't know anything about setting up websites and we had no idea how to label our jars, which are inspected by the council. We didn't know what coffee brand to use or what cups to buy. Knowing how much food to bake and bring was another big learning curve. Initially there was a lot of waste."
Baking for the business is carried out in Lindy's registered kitchen where they all get together and bake whenever they need to.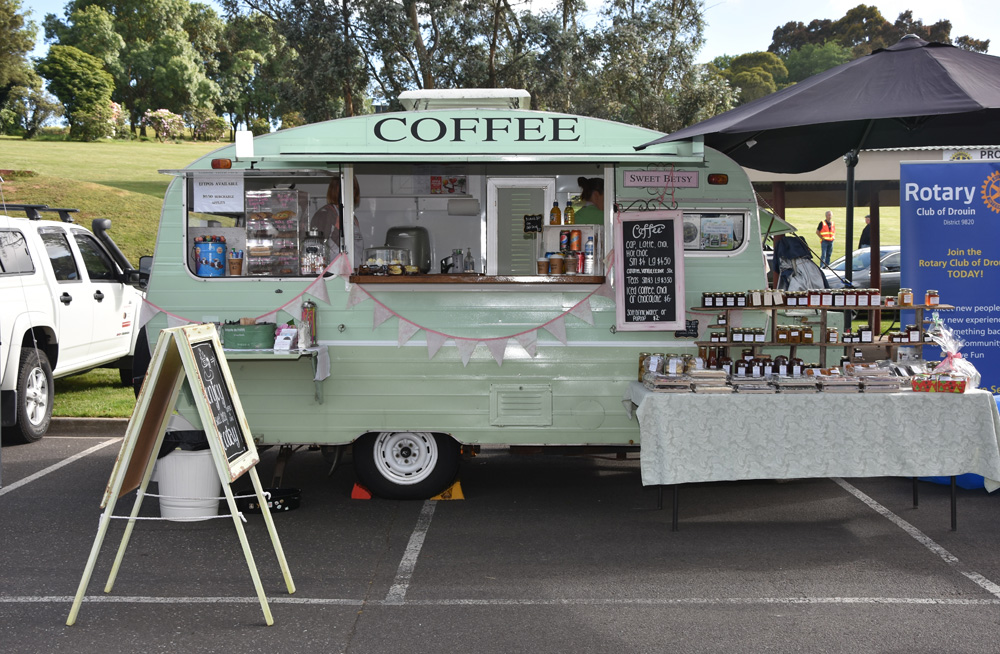 Lindy said their Sweet Betsy is heavy weighing around two tons. "Kirsty usually tows," April said, "she's the only one with a car strong enough but Lindy can borrow her parent's Pajero and they are now really good at reversing and getting into tiny spots."
The original affordable petrol generator they used was noisy so they have since invested in the best one on the market, one that is almost silent and moderates the power so it's much more economical. The van also has an 80 litre water tank and a waste water storage tank making her completely self-sufficient so they can park anywhere.
"We love it, we all really enjoy it," Kirsty said. "The events are great, we're out interacting with people and everyone's really nice but behind the scenes preparation while managing our time around kids and working other jobs can be challenging."
April said what she likes the most is getting to know the other stall holders. "Most are like-minded small business owners and people who work from home that just want to get out and make their hobby more than it is. It's a really lovely welcoming community."