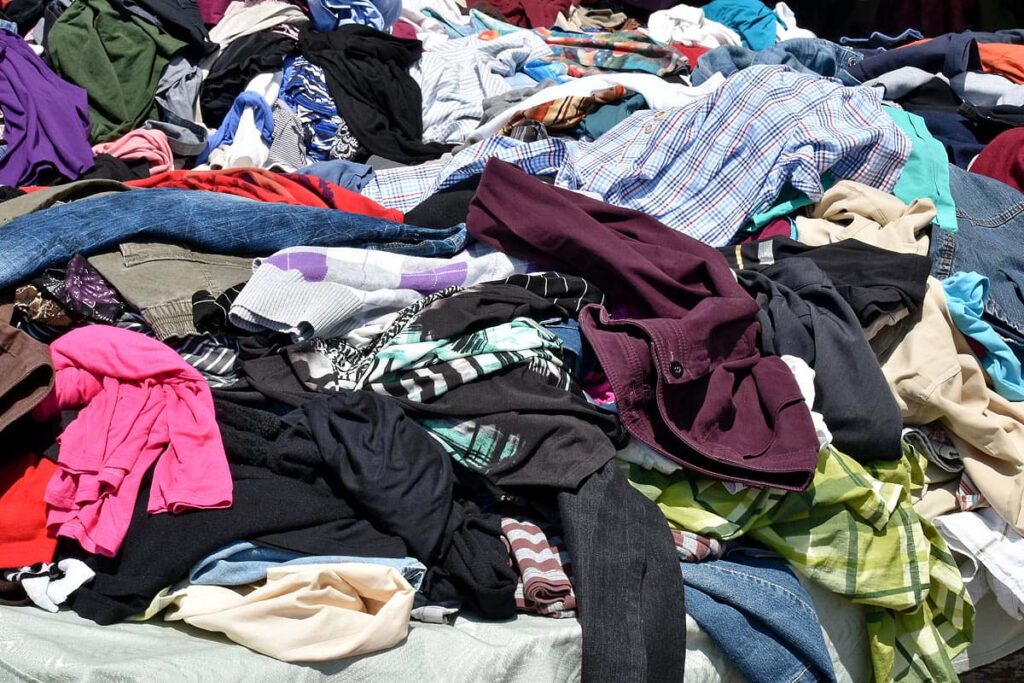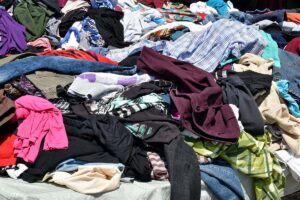 Every 10 minutes, six tonnes of clothing and other textile items go to Australian landfill. It's the second largest polluting industry globally that emits more than one billion tonnes of carbon every year. To change it requires more than our actions; it requires a change of mindset and reassessing our values.
When we follow the latest fashion, we often buy cheap, poorly produced clothing that is worn a few times and then thrown out. A low price tag may convince us we've made a sound purchase economically but if we look instead at how much the garment costs us per wear; it can then become expensive. A $20 item worn 5 times will cost $4 per wear, whereas a quality $40 item worn 40 times will cost $1 per wear. Also the cheap, poor quality garments we purchase have very little after-life use, while better quality, well-cared for garments can more easily be repurposed and recycled.
Instead of feeling good in commonly worn fast-fashion items, we can feel just as good if not better wearing well-crafted, unique garments that express our own individual style. If it's a particularly beautiful piece, why would we only wear it a few times and then throw it out? With care, some quality items of classic clothing can be worn for up to 30 years or more and that's an achievement to be proud of.
Apart from the monetary value of the clothes we wear, we should also consider the extensive work that goes into the production of the fibre, fabric and the manufacturing of our clothes. This reflects the value we have of ourselves, the efforts of others and the health of the world we live in.
To Reduce unwanted clothing going to landfill:
Purchase timeless clothing items that suit you and express who you are rather than follow the latest fashion.
Purchase fewer clothes that last longer and proudly wear them often.
Care more about what you like wearing and less about brand names and what other people think you should wear.
Choose ethically and sustainably produced clothing for a healthier environment.
Purchase clothing that can be layered for multiple seasons and add accessories to change the look.
Purchase unique pieces from charity outlets or second hand shops and add accessories to develop your own unique style.
Upcycle your garments to create a new look or reuse the fabric to make accessories, children's clothes or household items.
Plan your purchase rather than buy on impulse so it can be worn with other garments you have in your wardrobe.
Consider sectioning your wardrobe into (1) work clothes, (2) wedding, funeral and christening outfit, (3) casual clothes and (4) your party dress, so you can plan your purchases.
Carefully follow the care instructions and look after your clothes so they last longer and look great while respecting the natural resources used to make them and the work others put into producing them.
To maintain the quality of the fibres of your clothes and to avoid fading, wash them if you can in cold water and line dry them in a sheltered place.
Hang your clothes or fold them carefully after drying to avoid the need for ironing.
Invest in repairing your clothes, accessories and shoes so they last longer.
Keep in mind that while knitted fabrics are more comfortable, woven fabrics last longer and clothes made from natural fibres are healthier to wear and will break down at the end of their life.
To Reuse unwanted clothing and other textile items:
Clothes can be added to, or subtracted from, for longer life or a new look. You could change the buttons, take out sleeves, shorten, add lace or embroidery to create a more romantic look. Jeans can be made into shorts, long sleeved dresses into pinafores, vest or skirts.
Before reusing fabric from a garment or discarding an old garment, consider removing any working zips, ribbon, lace or buttons that can be recycled in charity outlets or to keep in your home haberdashery box and used to repair, repurpose or upcycle your next garment.
Woven fabric can be made into scarves, hats, produce bags, shopping bags, cushions, patch work quilts, children's clothes, toys or dress up costumes, aprons, pot holders or oven mitts, rag mats, place mats or coasters.
Woven wool or mohair can be made into teddy bears or cut into squares and made into patchwork throw rugs.
Woven cotton fabric can be made into hankies, serviettes or hygiene items and fine knitted cotton can be made into underwear, baby clothes or baby hats and rugs.
Knitted jumpers can be unravelled and the good wool used to knit beanies, scarves, patchwork throw rugs, floor rugs or tea cosies. Sleeves can be made into leg warmers or fingerless mittens.
Old towels can be remade into facecloths, baby wash cloths, hand towels, tea towels and cleaning cloths and old tea towels into dish washing cloths and cleaning cloths.
Tissues, paper towels and paper cleaning cloths can't be recycled and often clog up septic and sewerage systems. Cleaning cloths made from plastics and microfibers when discarded do untold damage to our natural environment, which in turn affects our health so there's value in upcycling our unwanted fabrics to replace them.
To Recycle unwanted clothing and textiles:
Clothing and textiles can't be recycled through kerbside recycling bins. They can get caught in sorting machines contributing to wear and tear and slowing the sorting process.
You can recycle your unwanted clothes by handing them onto to others, swapping with friends or by selling them through community and online marketplaces and garage sales.
Many charity outlets and second hand clothing shops will take unwanted clothing but keep in mind when you donate that they are also liable for any costs associated with sending items they can't use to landfill, which is currently $13 million a year.
Vets, wildlife carers and wildlife shelters will sometimes take old towels and blankets for bedding (not pillows or doonas).
Community gardens and Landcare groups may accept donations of clothes made from natural fibres to use as weed mats or for mulching and worm farms.
Other clothing and accessory recycling organisations:
Sheridan retail outlet will take donated used quilt covers, sheets and towels.
https://www.sheridan.com.au/sheridan-life/the-sheridan-recycling-program.html
King Cotton is a resource recovery company that coordinates the recycling and reuse of clothing and household textiles that are collected through their clothing bins.
Clothing Cleanup offers a pick-up service for unwanted clothing, shoes, handbags, accessories (including hats, belts, scarves) and manchester.
https://clothingcleanup.com.au/
Manrags accepts clean old, worn or damaged clothing items, pairs of shoes, old sheets, towels, fabric off-cuts and textiles with a fee of $25 for collecting 10 kgs.