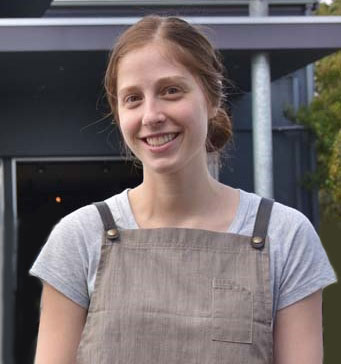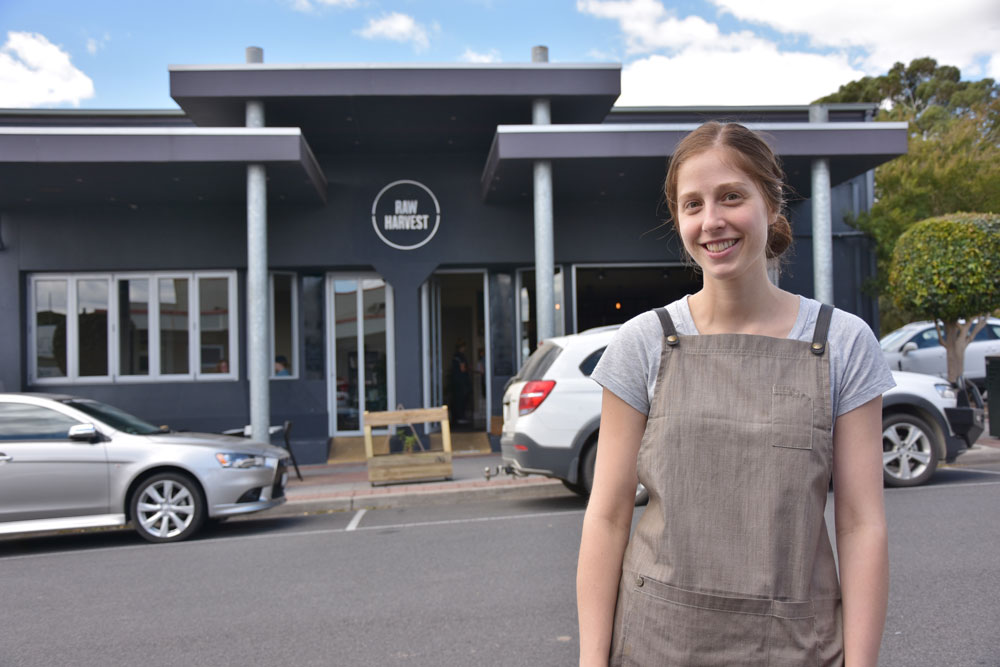 Elizabeth Maskiell is a nutritionist with a passion for healthy food. She is the founder of Raw Harvest, an online enterprise that provides nutritionally-designed, deliciously simple snacks, treats and meals fulfilling all types of dietary requirements and using only the best, local and organic produce. She then added another arm to her business by opening the Raw Harvest Café in Newborough in Regional Victoria and said the response has since been incredibly positive.
"The first week was crazy," Elizabeth said, "We had quite a strong online presence; particularly in social media, which really helped it take off. Letting people know we were opening reached 25,000 people overnight on Facebook, which was amazing. The first few days were a little overwhelming because we didn't really know how many to prepare for but it's all worked out perfectly. I think I was running on about two to three hours sleep a night for the first week but I still turned up loving it every day."
Elizabeth loves sharing the food she creates with the community and catering for dietary requirements and nutrition. She likes to see people who genuinely suffer food intolerances or people who haven't made choices not to be able to eat something, come out and enjoy eating in a safe environment with their family. "We do a lot of celebration cakes for the same reason," she said.
The entrepreneurial nutritionist is herself celiac and lactose intolerant. She comes from a family with autoimmune issues where there have always been some food intolerances, which she said was what drove her to becoming a nutritionist. "I have worked with clients who struggle to go out and enjoy their food due to the need for specialised requirements and I do think it socially isolates people."
Seeing the need to cater for specific nutritional requirements and a gap in the market, Elizabeth set up her online business in 2014 and has operated it successfully since.  She supplies other Gippsland cafes with healthy alternative treats and provides pre-pared meals. "The meals are a bit like 'Light and Easy' sort of thing but made using local organic produce," she said. "We focus on local as much as we can so we use Gippsland Jersey Milk, Hope Farm Bakery Bread and other locally produced items." Another focus in the business is hiring staff that have either been unemployed for a while or are wanting to upskill with more training.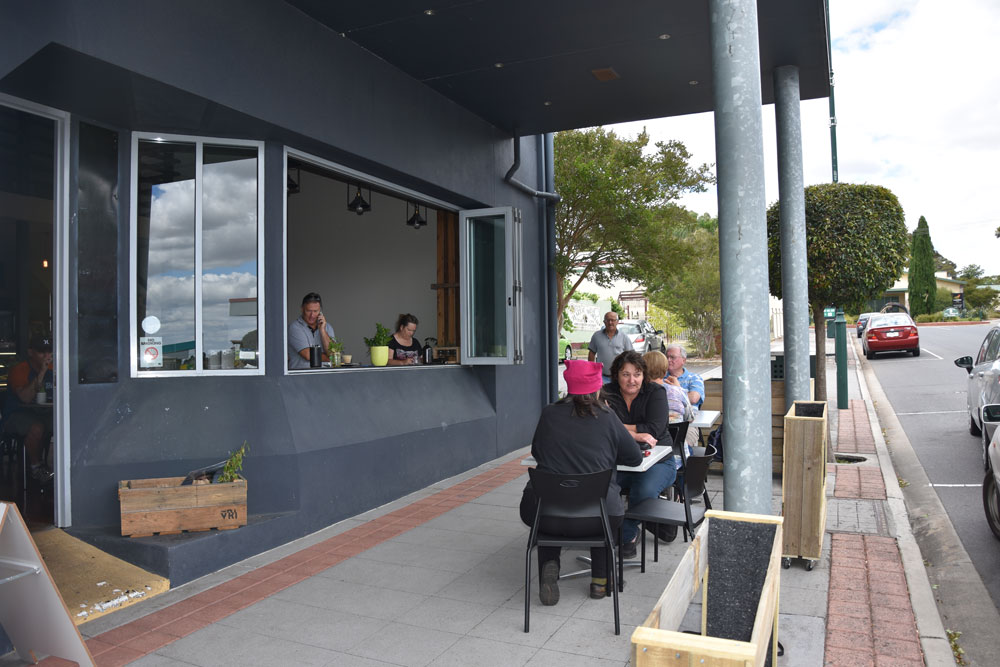 Elizabeth purchased the pre-existing café business in the building she now leases and rebranded it to fit into the present Raw Harvest business. "It was a café with lots of bright punchy colours," she said, "but I wanted to bring in the more mellow tones. The idea was to make it a space where people could mindfully relax and enjoy social time with their friends and family, and I think we've created a space that does that."
She said many people have questioned why she chose an out of the way place like Newborough but it's where she grew up and where she now lives. "It's also only a few minutes off the highway and it's central to Traralgon and Warragul making it a reasonable distance either way for customers collecting our wholesale products. People are also leaving five minutes earlier in the morning to come into Newborough to pick up their morning coffee and lunches from the cafe."
Elizabeth gained a degree in nutrition at Latrobe University and for a while afterwards, she worked for Latrobe Community Health Service as a nutritionist. Later she took a break from the industry and worked in other areas in Gippsland and for a few years she worked in Darwin. She said now its Raw Harvest and it's worked out perfectly for her. "I love it."
The café is open five days a week. Elizabeth also works 16 hours a week for 'ReActivate' a not-for-profit organisation in the Latrobe Valley and through it, she runs two 50 Mile farmers markets a month and is part of the 'Get Stuffed Project', a new Latrobe Valley food network. "Through the organisation we are showing people with job losses and income insecurity that they can grow things in their back yard, produce goods or sell produce on and bring in an income through local food networks. We work a lot with farmers and food producers both primary and secondary."
The food for every part of the Raw Harvest business is cooked in the new café. The wholesale treats are delivered to cafes throughout Gippsland on Tuesdays and Fridays and the pre-prepared meals are collected from the café on Tuesday evenings. "Some are distributed to a few local fitness clubs as well and collected by their members," she said. "It's an arrangement that brings a bit of business both ways and it's really nice to be able to collaborate with other like-minded people."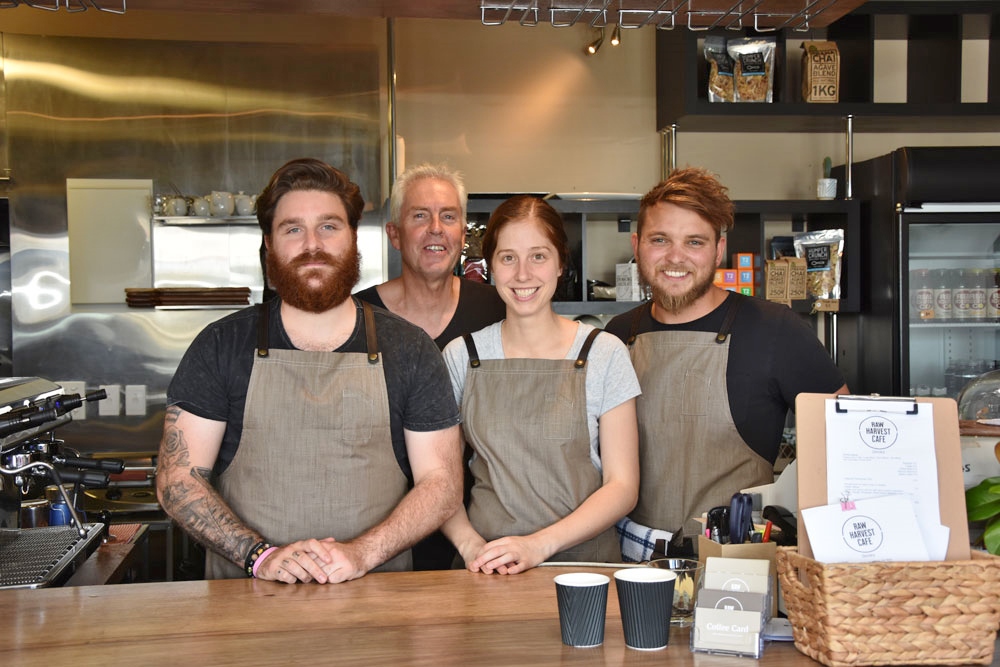 Nick is the café barista and someone Elizabeth has known for a long time. "We went to school together," she said. "Dillon also works in the café and the other gentleman is my dad James who hasn't been working for a while. It's nice to have him helping out and he does most of my deliveries."
She also employs a few weekend staff who are wanting to train or have left school but haven't found the jobs they want. "One of the girls we have working for us is studying to be a personal trainer so she is looking forward to learning more about nutrition and it's nice to be able to share that knowledge with someone."
On the wholesale side of the business Elizabeth employs one woman who works in the kitchen helping her on the days they cook the pre-prepared meals and treats. She said in the future she would like look at a few more collaborations with more artists and health conscious people.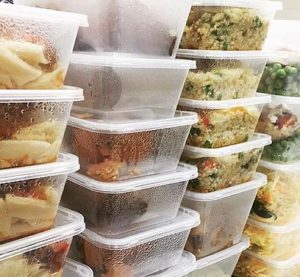 Main Image: (Right to left) Nick, Elizabeth's father James, Elizabeth and Dillon in the Raw Harvest Café.